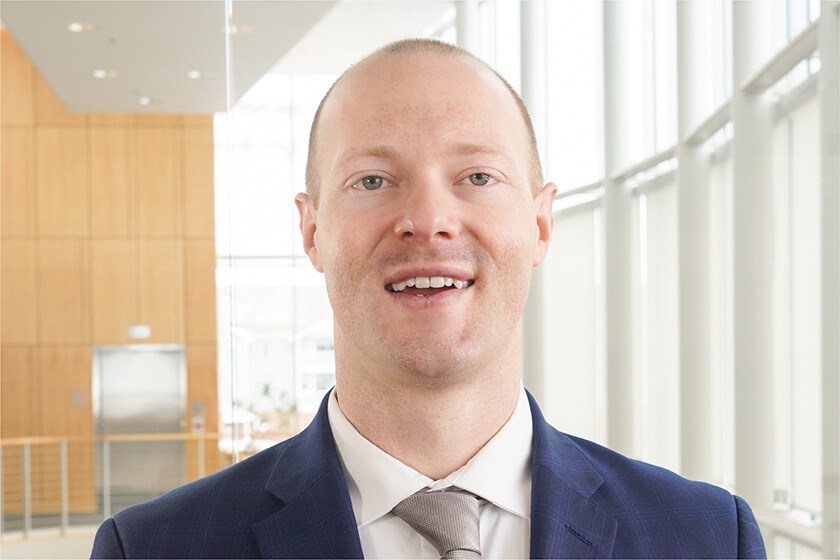 Meet Dr. Michael Greenwood
Dr. Michael Greenwood is a Fargo, ND board-certified ophthalmologist specializing in cataract, glaucoma, cornea, and laser vision correction (LASIK) surgery. Upon the finality of the fellowship with Vance Thompson Vision, Dr. Greenwood was invited to remain on the staff, working among the greater Midwest's most accomplished ophthalmologists. Today, Dr. Greenwood leads Vance Thompson Vision's Fargo, ND area location. As a Jamestown, ND native, Dr. Greenwood is proud to offer premier eye care close to home.
While attending the University of North Dakota, Dr. Greenwood was recognized by ESPN as an Academic All-American football player. After receiving his undergraduate education, Dr. Greenwood enrolled in the University of North Dakota School of Medicine and Health Sciences to complete his Doctorate of Medicine. For his ophthalmology training, Dr. Greenwood chose to train at Case Western Reserve University/University Hospitals in Cleveland, OH where he was an administrative chief resident. Dr. Greenwood furthered his ophthalmology training with an advanced anterior segment fellowship at Vance Thompson Vision alongside board-certified ophthalmologists Drs. Thompson and Berdahl.
Award for Academic Excellence and Outstanding Contribution — Delhi Ophthalmological Society
Resident Excellence Award — ASCRS Foundation
AAO Advocacy Ambassador — American Academy of Ophthalmology
Administrative Chief Resident — Case Western Reserve University
Gold Humanism Honor Society
Class President — UNDSMHS
First Team Academic All-American, Football — ESPN The Magazine
Student Athlete of the Year — North Central Conference
Male Student Athlete of the Year — University of North Dakota
With in-depth, hands-on training in advanced anterior segment surgery, it is no wonder that Dr. Greenwood specializes in the most advanced surgical treatment of the eye. As a fellowship-trained cornea and glaucoma surgeon, Dr. Greenwood performs the most advanced techniques in cornea transplants, minimally invasive glaucoma surgery (MIGS), laser-assisted cataract surgery, and laser vision correction (LASIK). He continues to be a leading surgeon in the eye care industry ever since starting his ophthalmology journey, and believes that every patient deserves to see life with clarity. He is honored to put his exemplary skill set to use to make that happen.
Extracurricular Involvement
Dr. Greenwood is passionate about teaching and is a Clinical Instructor of Surgery at the University of North Dakota, helping teach medical students and residents. He is also the associate medical director of the Dakota Lions Sight and Health, working to advance the field of corneal transplantation. Dr. Greenwood has been published in a number of peer reviewed journals. In addition, Dr. Greenwood is a member of the following organizations:
The American Academy of Ophthalmology
The American Society of Cataract and Refractive Surgery
The International Society of Refractive Surgery
Hobbies & Personal Interests
When Dr. Greenwood is not performing eye surgery, he enjoys spending time with his wife, Heidi, and daughter, Quincy. Together they like playing golf, running, reading, and listening to music. Dr. Greenwood also enjoys playing hockey and skates year round. In the summertime, they enjoy spending time outdoors in the lakes area.
Reviews
"Vance Thompson Vision is an excellent place. I had LASIK eye surgery done about a year ago. It was one of the best decisions I have ever made. After years of wearing glasses and contacts, it is so great being able to wake up and be able to see. The doctors, nurses, and staff made you feel so comfortable and were so helpful. They made you feel like family. They did a great job at explaining the procedures and timelines for healing. Dr. Greenwood and his team are the best!!!!"
J.R.
Healthgrades
"Explained the procedure and options well, very compassionate about the process. Called at 8:30 pm to check how I was doing after surgery. Superb staff that remembered who I was in follow up. Very well run clinic"
S.R.
Healthgrades
"Excellent Choice - Both of us had Cataract Surgery. We received excellent care and excellent communication...we felt we were in good hands.Leroy and Janice Chief"
Anonymous
Vitals
"Great Doctor! - I had two surgeries conducted on each eye. I have to say that the office staff was so profession and friendly. I worked with Terry in the billing office in SD and she was truly amazing. She took a lot of time making sure that my insurance covered most of my procedure. Dr. Greenwood is so friendly and professional. He explained in detail what I should expect before, during and after the surgery. I would highly recommend this office and Doctor for any eye care needs!!"
Anonymous
Vitals
"Great Doctor, great staff - I would highly recommend Dr. Greenwood and his staff to anyone that needs eye surgery. I've had 3 procedures done with him, and the results have been terrific."
Anonymous
Vitals
Related Posts